Venue
Utrecht University Hall
Located in Dom Square in the centre of Utrecht, the University Hall is more than just a monument. It is Utrecht University's ceremonial heart and its public face.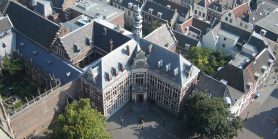 DOM SQUARE AND DOM CHURCH
Dom Square as such emerged only in 1826 after clearing the ruins of the in 1674 collapsed nave of the cathedral. Currently, the underground history of the square is being made visible by creating an underground space to visit. There are all kinds of meeting and catering facilities in characteristic buildings surrounding Dom Square. The private, walled Pandhof Garden and Flora's Court are stilled, green oases closed in between the ancient buildings. Increasingly Dom Square in Utrecht is the hospitable "place to be".
St. Martin's Cathedral or Dom Church was the cathedral of the diocese of Utrecht during the Middle Ages. Dom Church has only one tower, the 112 m (368 ft) high Dom Tower, which is the hallmark of the city.
Photo Source: Ramon Mosterd  – Utrecht Tourism